Our clients sometimes decide that they want to create a whole bunch of different accounts in the chart of accounts. This leads to a lot of categorized errors as well as a lot of clutter.
The chart of accounts in QuickBooks Online has recently been updated to mitigate some of these issues. We, accountants, will also be able to reduce the amount of cleaning and confusion at period end.
There have been more changes, but they will only be active for new QuickBooks Online subscribers. Moreover, some of the changes in the Accountant view might not be visible just yet, but should appear soon.
Sub accounts can now only be added to existing parent accounts for new clients
Only new QuickBooks Online subscriptions are affected by this change. A client must select a parent category and create a sub account in order to assign a transaction to a new category. Adding parent categories is no longer an option. Except for new bank accounts or credit card accounts, there is one exception. Only clients using the Business view are affected by this change. As before, they can create parent accounts if they switch to the Accountant view.
Undeposited Funds account Renamed
Due to confusion over what the Undeposited Funds category means, the default account name has been changed to "Payments to deposit." Most of us have heard, "What is an undeposited fund?"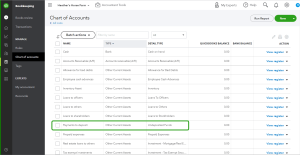 Hopefully, these changes will close the gap of confusion and keep our clients' charts of accounts in good order.