Introducing Intuit Assist: The New AI Feature in QuickBooks Online
We're thrilled to introduce a groundbreaking feature integrated into QuickBooks Online – Intuit Assist. This beta feature, while being a part of QuickBooks, offers expansive capabilities beyond it. Dive into this video for a detailed overview!
Spotlight on Intuit Assist
Intuit Assist isn't just another AI tool; it's powered by the latest Generative AI (GenAI) technology. Its primary goal? To offer intelligent, personalized suggestions, aiding consumers and small businesses in making informed financial choices.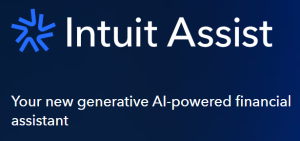 How Can You Benefit from Intuit Assist?
For those constantly navigating QuickBooks and seeking answers to financial questions like, "How's my business performing?" or "What does my cash flow indicate?", Intuit Assist anticipates your queries. You might even get suggestions such as, "Want to see your top expenses?"
Additionally, if you're on-the-go and need instant assistance, simply tap into your mobile app. Let's say you're considering a new credit card. Just ask Intuit Assist, and it'll seamlessly integrate with QuickBooks, accessing your financial data to provide guidance.
Harness the Power of MailChimp Integration with Intuit Assist
What makes Intuit Assist even more compelling is its synchronization with MailChimp. Dreaming of launching a captivating marketing campaign? Use Intuit Assist to craft campaigns in MailChimp, letting the AI fine-tune design elements like colors, wording, and logo placement. Once satisfied, ask Intuit Assist to fetch the list of your recent QuickBooks customers and dispatch the freshly minted campaign to them – all in real-time!
What's Next?
Although currently in beta, the innovations rolling out suggest a promising future for Intuit Assist within QuickBooks. The potential is vast, and we're excited to see how it'll revolutionize our financial journeys!
To learn more, subscribe to our YouTube Channel! – https://www.youtube.com/@lizscottqbo